The Future of WordPress in 2020
The future is awesome!!!
When it comes to choosing a CMS for any kind of website, WordPress is now the most dominant CMS on the market — standing head and shoulders above the competition with a good chunk of the market share. nothing beats WordPress.
"35% of the Internet is Powered by WordPress"
Market share growth for WordPress continues to rise. Since 2016, it went from 58.8% to 61.8% as of November 2019.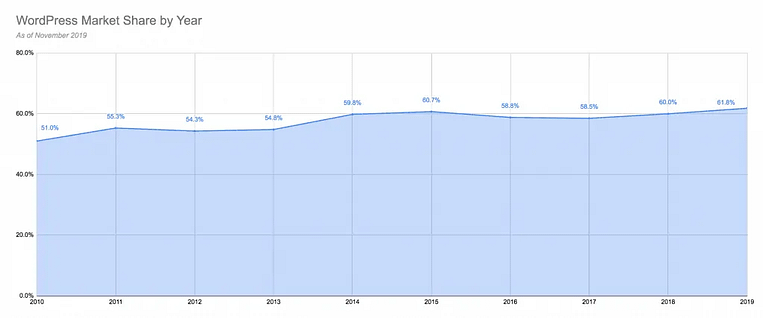 2020 came after another insanely busy year for the world's most popular content management system. At the beginning of 2019, WordPress rolled out it's major 5.0 version upgrade which introduced block-based webpage editing through the Gutenberg editor to provide a more intuitive website building experience.
Here we are presenting Top 5 of the WordPress trends that promise to be the most impactful next year.
1. Implementation of Artificial Intelligence
Well, we're not thinking quite as big as humanoid robots or self-driving cars. Rather, we'll focus; how AI can be used to work with your WordPress website to perform important tasks.
Artificial Intelligence (A.I.) is the biggest technological game-changer that humanity has seen in a long time, and it's grown to a point where websites of all kinds are gaining huge returns from the abilities it provides.
In fact, according to a survey by MindTree, 77% of organizations have already implemented some A.I. technologies into their workplaces. However, many of them end up losing out when hastily or waywardly implementing A.I., so understanding and planning is important.
But the specifications of implementation aside, when used properly, A.I. empowers websites with amazing new capabilities. For instance:
Polish Your Spelling, Grammar, and Word Choice to Enhance Your Content
Boost Your Content's SEO to Improve Site Visibility
Automate Customer Service for Your E-Commerce Site to Increase Sales
Show Users Related Content to Personalize Their Experience
Using AI to take care of some of the tasks your site requires can free up your time to attend to more pressing concerns, and improve your users' experience as well.
2. Augmented and Virtual Reality
Virtual reality (VR) technology has been growing rapidly in recent years, and now we can enable VR content on our WordPress websites. If you want to use VR related features such as 360-degree videos in your WordPress site, this can already be achieved by using suitable VR plugins (the same can also be said for AR previews).
Since it would be unwise for VR content creators not to specifically cater to such a popular platform with such a large market share, it's clear that the future for VR content on WordPress is exceptionally bright. From uploading fully 360-degree images to interactive 3-dimensional videos, websites have a new world of media-based opportunities at their disposal. Especially if they're websites that depend largely upon visual media to represent their products and services. And these first examples of implementation are only the beginning.
3. Voice Search is Coming – Big Time
The emergence of artificial intelligence and improvements in voice recognition are changing the way we interact with (mobile) devices. Speaking is more convenient than typing. For that reason, voice-controlled virtual assistants are rapidly becoming part of everyday life.
Whether through their mobile devices with features like the iPhone's Siri or with home assistants like Amazon's Alexa, the use of voice-based searches has risen exponentially year-over-year. By 2020, this is expected to be a top WordPress trend that countless organizations will try to capitalize on. In fact, according to this study, by then 30% of all web browsing session will be performed without a screen.
This has organizations shifting from focusing on SEO alone and putting some much-needed attention toward Voice Search Optimization. After all, it's plain enough to see that if a business doesn't begin catering to customer voice searches for their products and services, they'll end up being ignored by a huge portion of voice search-reliant consumers.
4. The Use of Multipurpose Themes
WordPress themes impact the style of your website's layout and they have been around since the beginning of this platform. Multi-purpose themes, nevertheless, integrated plugins and include customizations alongside their web design features—and their use of expanding makes them another top 2020 WordPress trend.
These themes can operate across a large number of independent websites, which makes them a favorite for large organizations that want to enhance their business development by managing multiple sites at the same time.
Also, there are many different and adaptable multipurpose themes around, all with their own unique website templates and features. Whether an organization is looking to create a fully-functional corporate website, an eCommerce storefront, a business portfolio page, or simply a blogging site, multipurpose themes specially designed for those roles are available and ready to get the job done.
5. Integration of Live Chat and Chat Bots
You're most probably somewhat familiar with chatbots or have at least seen one pop up in the lower right-hand corner of your computer screen while browsing online.
With the help of chatbot on your site, you don't need to worry about your sales team being unavailable when new potential customers and clients get in touch, and you don't have to hire any additional staff to keep up with a live chat interface.
You can use chatbots on your website to automate responses and provide useful information to your direct customers as they need within seconds and they can do this at virtually every part of the customer journey.
Conclusion
The future of WordPress is bright and becomes brighter with each new update. If you're in doubt, WordPress isn't going anywhere soon, which means you should jump in right this minute. Your time starts NOW.
For any organizations seeking assistance in implementing new features to their website, or keeping their online operations at peak performance, check out the support services we offer here or if you have already your website; we will happy to audit your website FREE.