8 Quick Tips to Web Accessibility: Why You Should Care About it
According to the World Health Organization, 285 million people have vision impairments, and around 15 percent of the world's population, or an estimated 1 billion people, live with disabilities.
Speaking of users, when we think about web accessibility, we often consider those with visual or hearing impairments first. Complete blindness, vision loss, or color blindness, and deaf or hard of hearing. Undoubtedly, ensuring deaf and blind folks can easily navigate and use your website is a significant part of a site being accessible, but there is more.
Being accessible means those with cognitive disabilities and conditions need to be able to navigate successfully. Complex menus and sites with compact and confusing layouts are a no-no. Whitespace, fewer columns, and useful headings can make a huge difference.
Being accessible means those with physical disabilities and limitations need to be able to navigate successfully. Will you effectively get around your site with only a console or voice control? Are links and buttons big enough if someone has trouble keeping a mouse steady? Is it difficult to control various scroll bars with content inside a page? Will your auto-play animations potentially induce a seizure or an instant headache to some visitors?
Being accessible actually means everyone needs to be able to navigate successfully. On all types of devices, with all speeds of internet service, and everything in between.
It is worth repeating, so here goes again. Web accessibility includes accommodations for users who:
Are visually impaired and rely on screen readers to navigate the web
Can't see color and need an accessible design to ensure they can perceive all of your site's content
Have limited motor control and use alternative methods to get around the internet, such as keyboard or voice-activated navigation
Deaf and hard of hearing visitors who may not be able to access audio or video content
Visitors with learning disabilities such as dyslexia, who may have a harder time reading certain fonts
So, What Is WordPress Accessibility?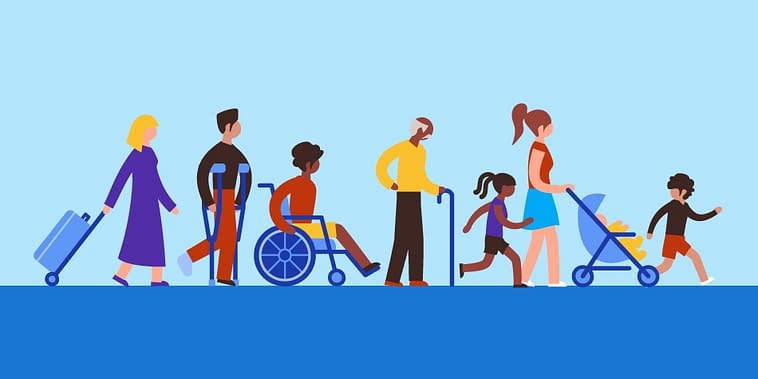 You likely already know that web accessibility means making your website available to all users, regardless of their sight, hearing, motor skills or the hardware they use, such as assistive technology. Despite the fact that there are numerous parts of this, accessibility for most WordPress sites applies in three major ways; content, design, and navigation.
A totally accessible site is one that can be utilized by anybody – regardless of their abilities or disabilities.
Web Content Accessibility Guidelines (also called as WCAG) are freely available online. WCAG 2.0 was published on 11 December 2008. WCAG 2.1 was published on 5 June 2018. WCAG 2.2 is scheduled to be published in 2021. These rules incorporate testable "success criteria" so individuals can estimate how accessible their website is.
There are 3 levels of WCAG compliance: A (lowest), AA, and AAA (highest).
100% compliance with WCAG 2.0 is incredibly difficult, so AA is considered the worldwide standard for web accessibility.
The Worldwide Web Consortium (W3C), an international group of experts providing best practices and policies for a usable and efficient web, authored guidelines that have become the gold standard for web accessibility across the globe. These norms develop as innovation advances and address numerous pieces of figuring, yet the most applicable current norm for web creators is the Web Content Accessibility Guidelines Version 2.0 AA (WCAG 2.0 AA). Many countries, including the U.S., use WCAG 2.0 AA as a baseline for legal cases and regulations concerning web accessibility.
8 Tips to Website (WordPress) Accessibility
Tip 1: Design & Layout
The design of your site will take a major part in WordPress accessibility. This chooses how users navigate and explore all the substance on your site. Your design will choose where the pieces of your site are put, similar to your navigation menus, headings, symbols (icons), and text, just as how they work.
WordPress websites are built around themes and plugins, and beginning with a theme that is confirmed accessible will make your design a lot simpler. These WordPress accessibility-ready themes are continuously updated by the WordPress community and examined for accessibility.
Tip 2: Color Contrast
There are more than 2.7 million color blind people in the world. These people have one of three types of color blindness: total color blindness, two-color vision, and deficient color vision. To be sure that your website design works with or without color, be conscious of color ratios and contrast.
Utilize high-contrast color options, like as black and white, to make your website more readable. The WCAG 2.0 recommends a contrast ratio of 4.5:1 for body text. If your website still needs a little more flair, you can lean on the use of patterns or textures to further increase contrast.
Tip 3: Image ALT Text
Image ALT text describes the appearance and function of an image on a page.
It was originally designed to increase accessibility since screen readers are not able to interpret an image without ALT text. However, it has since been used as part of SEO strategies with targeted keywords to be identified and recognized by search engine crawlers.
If you're in the habit of using ALT text as a way to stuff keywords into your site, you'll want to stop, or at least amend your process, as it can ruin the experience for people using screen readers. Thankfully, clearly describing the image (assuming it's relevant to what you do) should still end up containing useful keywords. In general, no ALT text is better than irrelevant ALT text.
Tip 4: Content Headers
A lot more people will skim your content than read it word for word. Content headers will not only let users skip to the parts they are most interested in, but the headers can also break large text blocks into more readable sections, helping screen readers to decide the context of each section.
Tip 5: Text Alternatives
If you have a multimedia website that includes videos, as well as audio files, such as podcasts and audiobooks, it's best to include subtitles or transcripts. This can help those who are deaf, as well as those who are in a public place and are unable to play the media files out loud, to enjoy the experience.
Tip 6: Explicit Form Fields
When building forms for your website, it may be fascinating to place the labels inside the field for creative reasons. Nevertheless, some screen readers cannot access the text when it is inside the field. So, keep it simple and put the form labels outside of the form fields.
Tip 7: Keyboard Accessible Links and Menus
There are a few people that can't access sites utilizing a mouse on account of motor skill disabilities. They rely on their keyboard to navigate sites, using the tab key to move forward and shift+tab to go back.
The issue that most commonly arises for these users is that the top items on a drop-down menu are accessible but submenus are not. You can remedy this by assigning shortcuts or access key capabilities. For example, pressing "1" will take you to the homepage, "2" to the about page, and so on.
Tip 8: Test for WordPress Accessibility
In case you're uncertain of the quality of your WordPress accessibility, you can test it
Though Web Accessibility Initiative does not endorse any specific tool, you can find a list of accessibility tools on their website. Give a couple of them a try and see how your site stacks up. The Google Chrome extension, Web Accessibility Evaluation Tool (WAVE) is another way to assess your website's accessibility.
Final Words
We have tried to explain everything in few paragraphs. We hope now you will be able to make accessibility-ready websites with WordPress.
We hope after reading this post, you'll have glimpsed the importance of website accessibility and see the role we can all play in its improvement. Check out the support services we offer here or if you have already your website; we will happy to audit your website FREE.